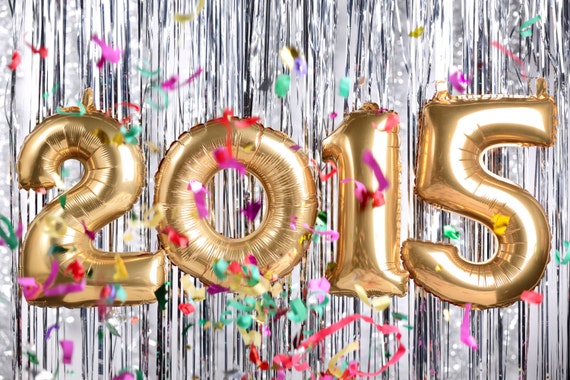 Happy 2015, friends! I love the sense of possibility and newness that this day brings. I hope you're excited to kick off another year – I know I'm excited about what's in store, and I can't wait to see where God takes me (and you!) throughout the upcoming year!
I have always loved making goals (daily, monthly, yearly, etc), though many of them are habits and practices I've tried to maintain throughout my life. There's nothing magical about January 1st, and I think that takes the pressure off! It's helpful and fun to reflect on what happened in 2014 and to set more goals for what I would like to see happen in 2015. There's a lot of thought, reflection, prayer, and dreaming that goes into active goal setting for me. For several years, I have worked through Lara Casey's goal-setting series, and I'm incredibly excited to delve into her Power Sheets and new book as I continue to work through making my goals happen! It's not about making trivial resolutions to cross off next week or forget about in a month. It's about making what matters the most to you really HAPPEN in your year. Check it out, for sure – I know your outlook and year will definitely be changed for the better!
Among some other more personal goals, my goals for 2015 are:
More Jesus; less me
Expand & grow Stephanie Scholl Events – serve my brides well, more styled shoots, collaborate more with other wedding industry friends, make more personal connections
Learn something new (so far, I'm thinking watercolor & floral arranging)
Travel someplace new &travel abroad
Write & send even more handwritten letters to connect with family & friends better
Grow my Etsy shop and calligraphy
Cook at home more, try new recipes, indulge in fewer happy hours, and host more dinner parties
Limit social media usage & browsing
Volunteer regularly
Be a better steward of my money – spend less on myself, give more generously, and save more
Read my Bible + Jesus Calling and write in my gratitude journal daily; incorporate journaling into my prayer life more
Read 52 books (including more business books, non-fiction, and classics)
Be more intentional about scheduling time to exercise regularly, track what I eat (the family is doing this, too!), ride my new bike often, play tennis, and get outside frequently
Laugh more, find joy in everything, be deeply grateful, & love deeper
 My verse for the year is:
"Whatever you do, work at it with all your heart, as working for the Lord, not for men." Colossians 3:23
My word for the year is "open"
Open heart; open arms. Open to new adventures, new opportunities, change, growth, love, and serving others. Open to whatever it is that the Lord wants for my life. Open to serving Him faithfully, loving Him more, and loving others more. And ultimately, I have no idea what this year has in store for me (really, there is a lot up in the air!), and I want to be open to that!
What about you? If you've written down your goals for the new year, I would love to hear! What are you most excited about for 2015?